Interview Abbreviations:   JJK  =  Jack [John Joseph] Keefe;       WDK  =  Wanda Davis Keefe;      AKK  =  Adhiratha Kevin Keefe
Jack
 

& Wanda
's Parents and Relatives
Jack and Wanda were raised in America and Canada in the years preceding the Second World War. During the interviews they spoke about their early lives and some of what they knew of their parents and grandparents families. During the Depression years which preceded the Second World War and continuing through the War Years, many families in North America were uprooted as their members went in search of employment. Jack and Wanda both were part of this pattern of travel in search of work. 
Some of the interview stories illustrate that Wanda's family had a history of mobility dating back to before the USA's Civil War. This family "history" possibly helped prepare her for her own migration. The next section begins with Jack sharing a bit about Wanda's Relatives:
JJK:              One of your grandaunts, [Wanda's] Aunt Ella, as a youngster was very blond of German extraction.  Her father was a drover and transported material from Edmonton up to Athabasca, along the Athabasca trail.  And this was back in the 1900s.  She would be one of the drivers. She was a kid about 12 to 14.  And I said to her," Aunt Ella where did you sleep nights?"  And she said: "Oh, we just slept under  the wagons."  And they got up to Athabasca where there were just Indians. They had never seen a white woman before.  Since she was very blond, they  would rub her hair for luck.  (Chuckle) [Aunt Ella]  came down to New York when she was in your 90s.
Wanda's immediate family lived in western Canada. However a part of the interview shows that Wanda's Great Great Grandfather was from Tennessee and had been involved in America's Civil War. His descendants, therefore like many North Americans, obviously had some mobility.
 This next section provides excerpts of stories and secondary source comments which may give some of the flavor of the times .
Wanda's parents and siblings were similar to others who had to move around during the Depression in order to find work and keep the family together. Jack and Wands were well aware of the devastation
The Davis family had to sell their furniture when times were bad. The Depression was difficult for families in Canada as it was in USA.
Wanda Davis Keefe, Davis Family
<![if !vml]><![endif]>

Figure 5 = 4.d       1929       Fred, Wanda, Gwen, Wildie & Stanley Davis                The Davis Family before Babe June was born. Wanda's quote - me in t he bee bonnet & knock Knees. At side of family car - model T?

<![if !vml]><![endif]>

Figure 6 = 4e         1931        Dede, June, Stanley, Wildie, Gwen, Wanda, Fred               A candid Shot of the Davis family before they left the farm in Canada
The interviews provided a glimpse of the different type of background and experiences Jack and Wanda had before they met in Whitehorse, Yukon Territory.  The early school experiences may have been the most different.
Wanda
's Schooling and sports
Wanda was originally in a one room school house. But at 11 years of age, she moved to the capital of the Alberta providence, Edmonton. Wanda had some initial trouble adjusting to the city but by the time she reached high school she had the opportunity to be considered for a feeder team to the famous Canadian girls Olympic  basketball team.
Schlesinger reports that in 1935 in New England, basketball was regarded as primarily a pastime for girls [B02-N01]  Wanda has an interesting story about a long-legged Canadian girl drawn to the sport but withdrawing because of some unwanted attention.
Polio, Jack
 

Schooling and Sports Illustrated presentation
Schlesinger notes that summers of his youth were haunted by the specter of infantile paralysis, as polio was then known. Children were forbidden from swimming pools and crowded places. [B02-N02]  As Jack Keefe puts it, he was one of the "lucky ones" who contacted polio during that time. The following  excerpt based on an interview for a popular sports magazine in 1987 tells this story best. Jack's parents resisted placing him in special schools because of Jack's polio produced disability to his leg. They believed in keeping their son in the "mainstream". He walked with the aid of crutches or braces and was a very active youth. Eventually Jack excelled in swimming related sports on his high school, college and national ranked community teams.
Excerpt of Jack's  Story as reported in SPOTLIGHT 23 March 1987, Sports Illustrated
Jack and Wanda met and worked together in the Yukon. I have used their words to give a sense of what it was like for their colleagues to arrive in this new place, adjust and establish new friendships and experiences.
 This first story illustrates the long summer nights of the Yukon and that people born in various places who came together in remote locations to work during the War found or created opportunities for recreation
Train travel was an established form of transport for long distance in North America at the time. In A Life in The Twentieth Century, Arthur Schlessinger describes his family's great travel adventure in 1933. They left by train for Montreal, where they picked up the Canadian Pacific railroad, spending three days on Lake Louise before crossing the majestic Canadian Rockies and going on to Vancouver. [B02-N03]  This western part of Canada was the site where Jack and Wanda met during the War and they also experienced the expansive beauty that Schlessinger described. Lake Louise was specifically mentioned by Wanda and Jack. Like others who served during the war they were in an isolated community. However, they were surrounded by immense natural beauty and their youth led them to explore their surroundings. Some of the stories and interviews touched on their experience of rail at the time.
Jack had recently just returned to his home in New York form South America where he had been working in support of the war effort. He now had to travel some distance by train and ship to the Yukon in northwestern Canada where he was to begin work. His story illustrates that some of the conditions of government sponsored travel were not always to the liking of the civilian employees.
On discussing their experience of traveling to Whitehorse Jacks final leg of his initial trip was mentioned. That stretch of railroad was notorious.  The track was a narrow gage and the train went along the steep side of the cliff..
[excerpt, see jw00se30.rtf para 11]
WDK:              And the other day we talked about riding on the narrow gauge (railroad).  And I said to him, oh I'm glad I didn't make the trip.  I never wanted to.  How could you stand it?  He said, it was dark I couldn't see anything..  (Chuckle)
JJK:                 Couldn't see anything, I slept through it (Laughter)
AKK:               Because it was known to be really steep?
WDK               Not only that, it was about this wide across (arms width).  With the wheels, on the train, and you would just look straight down.
AKK:               You mean it was like a single track, and didn't have seats on either side?
JJK:                 No, and it's the big, you know, valleys, deep, deep.
WDK:              No, no, it had sides on the train and everything, but I'm saying, the windows were down that low, and there was nothing on each side.  But the track was there and it dropped. But it was on both sides.
AKK:               Were the trains, narrow trains too?
WDK:              Yeah, and the train could only go one-way.  There was only one set of tracks.  So it got there and then it would turn around and go back. With other people -- traffic, so you couldn't meet anybody.  If you met them (trouble) --.  All these years I didn't know, you know, why he wasn't that much upset about it.  He said, I couldn't see, it was dark. (Chuckle)
AKK:               Because everybody else, who had done the trip, when they told you about it, it was --.  Had you done that trip too?
WDK:              No, no.  I had no desire to do it.
JJK:                 You could see it, you know, when we went along the road.  You could see it.  Later on we saw it.
WDK:              Yeah, oh I could see it, and everything.  It pulled into Whitehorse.  It didn't run for many years
<![if !vml]>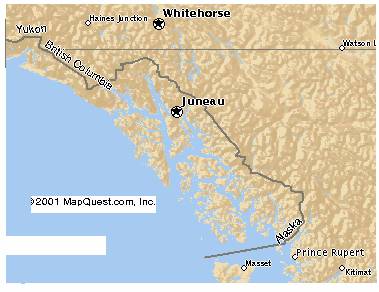 <![endif]>
Jack and Wanda meet :   
The first meeting of Wanda and Jack also illustrates some of the procedures undertaken:  files reviewed, weather specific clothing issued, the organization of the shared office space  and  how the staff all ate together in a mess hall.
Wanda tells a harrowing experience she had while out driving in a Jeep with co-workers:
The Radio was an important medium of communication in the pre war years and it was effectively used by President Roosevelt for his "Fireside Chats" with the American people. Jack's story illustrates that only some families had a radio when he was very young but that many more were part of a growing audience. By Jack's teen years his family did have a radio and it was a main source of entertainment. The Radio made a deep impression and Jack even remembers the theme song of a program from 70 years ago as well as various advertisement jingles. During the War Jack implies there was not much new happening with Radio programming.
During the 1930's & 1940's film played a great part in reporting on and shaping the North American culture. Movies also confront historians with difficult challenges in the reading of evidence.  It had impact on how stereotypes were made or changed  For example, the satiric woman cheered everybody with her affirmation both of identity and of competence.--[by 1944) Lauren Bacall carried the type from farce into drama and furthered the impression that the liberated female could cope with anything.  Film monopolized public attention. In 1936, sixty nine percent of the population went to the movies at least once each week - a figure that understates the consumption since most movie houses showed double features. [B02-N04] 
                While Jack was traveling, even if he didn't go to the evening film showing in town, he could tell what was playing. People returning home from the film would be singing the songs which had been part of the showing. A few of the interviews illustrated that Jack and his colleagues appreciated sharing good food and a well told story as well as going to new movies when possible. 
[excerpt, see jw00se30.rtf para 8]
JJK:                 I remember when we went up to Whitehorse we left New York in a RR troop transport, a train, and we rode a couple of days and we got to Edmonton.  And I'm telling you, we were in camp 150 in Edmonton. And it was the greatest chow I ever had in all my life. It was wonderful.  I couldn't get over it.  I thought, boy, this is really something.  But I got my come-up-ins.  We went from camp 150 to Prince Edward, which is right out near Prince Rupert on the West Coast.  On the train ride there, you had no place to sleep at all and all they gave you was beans and coffee, twice a day.  When we got to camp Edward the food there was pretty good.
JJK:     I remember there were movies at that time.  When we were in Edmonton we went to the movies.  What the picture was I don't remember now, but the song was "Buckle down Windsocki, buckle down.  You can win Windsocki, if you knuckle down."  So, I thought was a nice picture.  But then they asked me to go when I was in Prince Rupert.  And I said, "Nah, I don't care to go".  But I knew what the picture was because when the guys came back they were singing "Buckle down Windsocki, buckle down. You can win Windsocki, if you knuckle down." [Chuckle].  So then we get up to the Skagway, Alaska.  On the way up, we're in a ship called the Ann Henifey, which they used to transport horses in before we got there.  And  it really stunk by the time we got there. Oh, boy, it was something! 
[excerpt, see jw00se30.rtf para 9]
JJK:                 So, anyway we would have again beans and coffee twice a day.  So on the way up we were in the inland waterway.  And it was beautiful.  Glaciers and all that stuff.  And there was one big Irishmen from New York, John Flynn. He was two hundred and 50 pounds on the hoof.  And he stood about six feet and he was solid.  We were talking about the construction jobs that we had worked on.  And amongst the group they had been practically all over the world.  And John pipes up and he says,"There's the best god damn contractor of them all".  And I said,"You dumb Irishmen, who the hell is that?" He says: "Old man nature, old man nature.  The best contractor of them all".  And he says "But it's only right, because he has all those people working for him.".  I said "Who is that?"  He said "All those elements, all those elements."
JJK:     So then we get to Skagway, Alaska and they asked me to go to the picture show.  I said I am a little too tired, I think I will just read a book. I knew what the film  was, because when they come back it was "Buckle down Windsocki, buckle down.  You can win Windsocki, if you knuckle down." 
War
 

Production Locations -mostly South and West
During the War the biggest growth was in the south and west of the USA. This is where most of the military and production centers were built to support the war buildup. [B02-N05]  Jack and Wanda's work was related to the war effort. However, Jacks work was outside of the USA first in The Caribbean and South America and then in the Northwest of the American continent - Yukon. Wanda's was in the Yukon.[North W] and then in New York. So they both were not part of the areas of the biggest war buildup. In that sense, the stories may necessarily differ from other workers who moved in connection with the War effort. I did not find much in the reference works I consulted about overseas civilian jobs outside the USA. [Check list for references]. This could be an interesting query for future research but outside the scope of this project.
A forty page booklet titled the "Alaska Highway" has been preserved by Wanda and Jack. [B02-N06]   It includes an interesting narrative by Don Menzies and  photos provided by the Alberta Government, National Film Board, Ottawa, Canadian Pacific Air Lines, U.S. Signal Corps and the Edmonton Journal. It is dedicated to the highway builders. In the spirit of the war time, the inside cover assures the reader that "All the material in this book has been approved by the Official Sensors". It reports that at the official opening in 1942, War Secretary Stimson summed up the initial achievement: "Ten Thousand soldiers divided into seven army engineer regiments and 6,000 civilian workmen under the direction of the Public Roads Administration completed the job ..."
During the War effort new communities were created. Usually the established community had some suspicion of each new group entering a production locality. But in most communities, as the newcomers were observed to be hard workers and good neighbors, differences faded and a sense of sustainable community prevailed. [B02-N07] 
.               Farm Population decline,        
The farm population declined dramatically during the buildup and war years. Roughly 1/5 of the population left for war and production centers. [B02-N08]  Wanda mentioned her experience and why some family members  left the farm after 3 years of crop failure during the Depression Years. 
            New Devices on the Farm       
The introduction of  new devices &increased use of tractor speeded migration from the farm to the city in postwar years    [B02-N09]  Wanda and Jack comment that when her family left the farm when she was 11 years old they didn't have a tractor. After the War most farms did have much more modern "labor -saving" devices and equipment.
Once in the production centers or urban environment the young people found many of the trappings o f the modern life they had missed in the countryside and they were reluctant to return. [B02-N10] 
There seems to have been a number of contributing factors for Jack and Wanda not returning to Canada to raise the family as they had planned. One may have been their lack of secure job opportunities and amenities which they were reminded of while they were visiting Jack's family and friends in NY. The Keefe myth of returning  "to live in Canada" was played out in various years. There were a number of summer visits by members of the NY family to be with the extended family of relatives in western Canada. Jack and Wanda's first daughter [Elizabeth] settled in Edmonton area, married and raised four children there. George, their fourth son worked in the area for a time.
The fate of different immigrants [especially from axis power] during the war was mixed. Italians and Germans were generally accepted. The Japanese most often received harsh treatment of separation to camps away from the west coast. There was some definite stereotyping reinforced by films & magazines. [B02-N11]
During the interviews Wanda shared her experience of how she as a Canadian and other  "foreigners" were treated when as she came over the boarder traveling alone without her American husband.
Jack and Wanda formed some very close friendships in the Neighborhoods they lived before or after the war. It seemed most of the contact was maintained with the newer friends over the years by initiatives from Wanda and her female friends.  Jack maintained more close contacts with his early friends from his old neighborhood, High School or college and sports buddies. In Seaford Long Island where Jack and Wanda raised most of their children, families were largely from Italian, Irish and other European descent. A future interview could explore in more depth the friendships within the neighborhoods, commuter population and community associations. This could include experiences with Political Clubs, the short lived Block Mothers for Nuclear Alert, Roman Catholic Church,, Schools and after school activities for the nine children such as Scouts, Dance Lessons, Altar Boys, Sports Teams, paper routes and other working arrangements for part time or summer jobs. 
END Note list for B-2